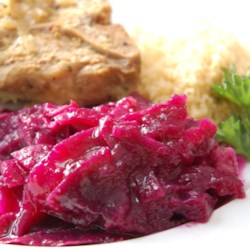 Photo courtesy of cookin mama via Allrecipes.com
One of the foods that instantaneously brings me back to my mom cooking in the kitchen is her red cabbage. The smell and taste says Mom. It's tangy and sweet at the same time and has a bit of spice from the clove and bay leaf. I could literally eat it all day long and would request it for part of my last supper. Adam LOVES it so much and calls it "Oma's Purple".
It's chock full of vitamins and is a great way to use up that red cabbage you bought on sale, but had no idea what to make with it. It goes great with pork and chicken dishes, especially.
If getting a large cabbage, you might have to increase spices, sugar and vinegar.
You really should use whole cloves, peppercorns and allspice berries. I know many won't have that in their pantry, but it's good to have on hand. If you absolutely don't want to get the whole berries, I'd use 1/8 teaspoon ground clove, 1/4 teaspoon ground allspice and a good couple of grinds of ground pepper. Add a pinch more at the end of the cooking if it needs more, but be very careful with these strong flavors!
If you don't have a spice bag or a piece of cheesecloth, just add the whole spices and pick the large pieces out before serving.
German Red Cabbage
Serves 6
1 medium head red cabbage, cored and sliced
2 large tart apples, peeled and sliced
1 medium sweet onion, sliced and separated into rings
1 1/2 cups water
1 cup cider vinegar
1/2 cup sugar
1 tablespoon butter
1 teaspoon salt
6 whole peppercorns
2 whole allspice
2 whole cloves
1 bay leaf
2 teaspoons cornstarch
2 teaspoons cold water
In a Dutch oven, toss cabbage, apples and onion. Add water, vinegar, sugar, butter and salt. Place the peppercorns, allspice, cloves and bay leaf on a double thickness of cheesecloth; bring up corners of cloth and stir with kitchen string to form a bag. Add to Dutch oven. Bring to a boil. Reduce heat; cover and simmer for 1-1/4 hours.
Discard spice bag. In a small bowl, combine cornstarch and cold water until smooth; stir in cabbage mixture. Bring to a boil; cook and stir for 1-2 minutes or until thickened.